Le Germain Charlevoix Hotel & Spa
Baie-St-Paul
At the heart of Baie-Saint-Paul, Québec, on land that once housed the largest wooden farm in Canada, a modern getaway has taken root.
Le Germain Charlevoix Hotel & Spa is the most contemporary of country hotels. It was an iconic wooden farm, which was ravaged by fire in 1997. From its ashes, a warm, unique space was created.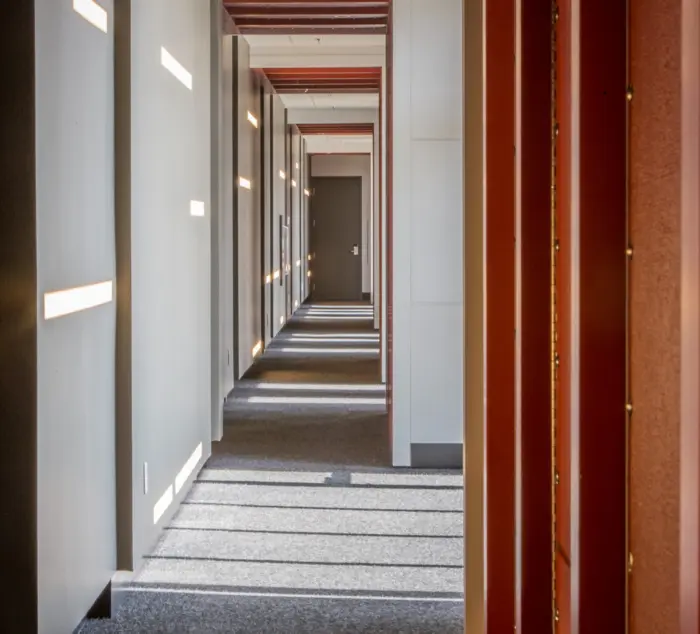 LemayMichaud crafted the look and feel of the hotel. Our mandate was to represent the history and culture of the area, to use local items, and to showcase the talents of local artisans.
In keeping with its history, Le Germain Charlevoix Hotel & Spa features barn-inspired wood features throughout the build (think pillars and exposed wood beams). It was important to keep much of the art and materials used locally sourced, highlighting the story of the Charlevoix people. Cabinets, curtains, bedding and carpets were all local finds, promoting Québec firms and artists.

The architectural adventure began with the idea of create a new hotel into multiple pavilions, as a reminder of the site's agricultural past.
Items one would usually see in country settings—milk crates, barn wood, wool—are found throughout the space. Furniture and lighting were handpicked and playful items were often used. Pillows were hand-weaved, depicting the "bright star of Charlevoix," a local symbol.
Five types of rooms were created in order to house distinct personalities. "Les Dortoirs de la Gare" feature pull-down beds, and a railway theme. "Le Clos" was influenced by the presence of the nearby monastery with its outstanding bell towers and features thirty-nine rooms and a peaceful courtyard. "Le Moulin" dominates the other pavilions with its four-story tower and uses botanically themed décor to allude to the farms' past pursuits. "La Bergerie" keeps past traditions near through items like woven rugs or a wooden rocking chair. Lastly, "La Basse-Cour" uses animal motifs and bright colours to keep things playful and lively.

Le Germain Charlevoix Hotel & Spa welcomes visitors from all over the world with the unique charm and allure of the Charlevoix region, where the sea, mountains, and culture create a warm, tranquil holiday destination, and where the design of the space is both inviting and successful in its mandate to represent the culture of the Charlevoix area and its history. The resort also offers a local gastronomic experience with its destination restaurant, a peaceful lobby lounge atmosphere and a thermal health experience offered by the Spa du Verger.

Learn more about the hotel on the web site of Le Germain Charlevoix Hotel & Spa.
In consortium with St-Gelais Montminy associés, Architectes – Hudon Julien associés, Architectes.