Club Med Quebec Charlevoix
Petite-Rivière-Saint-François
First Mountain Village in North America, Club Med Québec Charlevoix is located at the foot of the Massif, between the St-Lawrence River and the mountain.
The mandate of this 15-in-1 project was to revisit Québec's codes and to integrate them into the different areas like references, giving each of them their own identity, and promising a memorable experience. In addition to a hotel offering 302 rooms – divided in three categories and in several types (family, double occupancy and adapted) including 25 suite – the project also includes a massage therapy center, 5 restaurants, an indoor swimming pool, a gym and yoga studio, a beauty salon, a daycare that can accommodate children from 3 months to 14 years old, a ski room, G.O facilities (cafeteria and living space), two boutiques, a multipurpose performance hall, a bar, a wine cellar and a convention center with three large conference rooms.
LemayMichaud is proud to sign both the architecture and the interior design of this new destination, a first in the history of Club Med, which brings together the firm's expertise through a talented team of 20 people.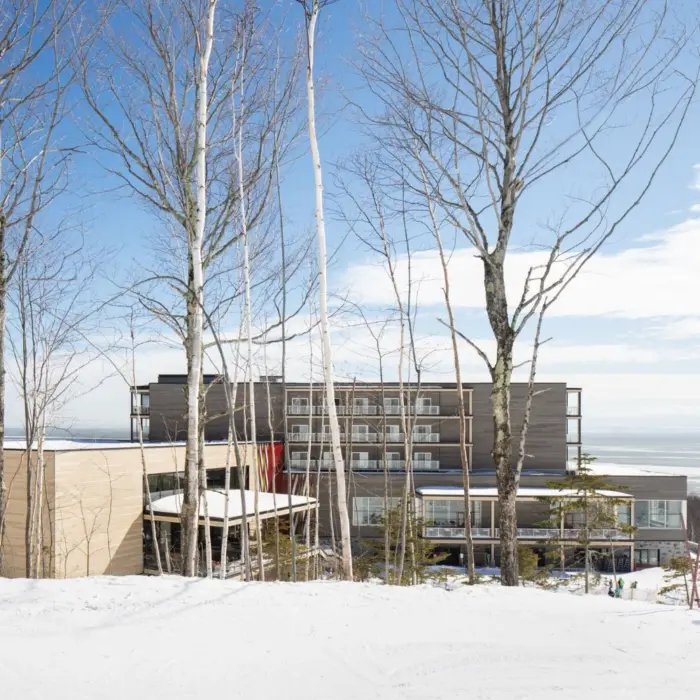 An architecture inspired by the region
Inspired by the region's distinctive characteristics, its landscapes and its colors, the architectural concept reinterprets and integrates elements of traditional Quebec architecture.
The building is articulated by the superimposition of several volumes of which the orientation is carefully planned in relation to the view, the topography, and the ski-in ski-out. Each space offers a breathtaking view of the river or the mountain, creating a most immersive experience for the visitor. Through the selection of materials, traditional elements of the region are integrated into the architecture and are reminiscent of typical Quebec houses. The traditional 6-pane casement window, the wood clapboard, the Canadian-style sheet metal, the stone walls, or the porch that protects entrances and terraces, are all elements borrowed and reinterpreted in a contemporary way to offer a distinctive signature to the project.
This assembly of materials is enhanced by the ceinture fléchée (arrowhead sash), which serves as the architectural emblem of Club Med Québec Charlevoix.
And it all started with a quilt
Club Med wanting to offer its visitors the Quebec experience, the project designers got together to highlight everything that reminded them of Quebec. Once the hundreds of photos, textures and color palettes were laid out on a table, the concept was born. Like a large quilt depicting the 4 seasons with a unique Quebec flavor, the team was inspired by Quebec's codes, and revisited them to create unique environments, each with their own identity. Multiple references to the history of the region, its communities and its traditions are integrated into the space: hanging canoes, graphic representations of fishing schooners, or the flight of Canadian geese. In addition to being a window on the St. Lawrence River, Club Med is a window on Quebec.