Time Out Market Montreal
Montreal
Located in the heart of downtown Montreal, Time Out Market is housed within the new Eaton Centre, whose complete renovation, started in 2014,includes the unification of the Eaton Centre and Complexe les Ailes into one redesigned mall. The project site is comprised of an existing building built in the 1930s, part of Montréal's urban heritage and with acommercial vocation since its erection, as well as of the contemporary annex of the late Complexe les Ailes. The Time Out Market brand,which offers a new culinary and architectural experience, is part of this major project, the architectural part of which takes shape around acentral elliptical atrium – the oculus – chosen to create an extended space that accentuates an effect of depth and visual continuity.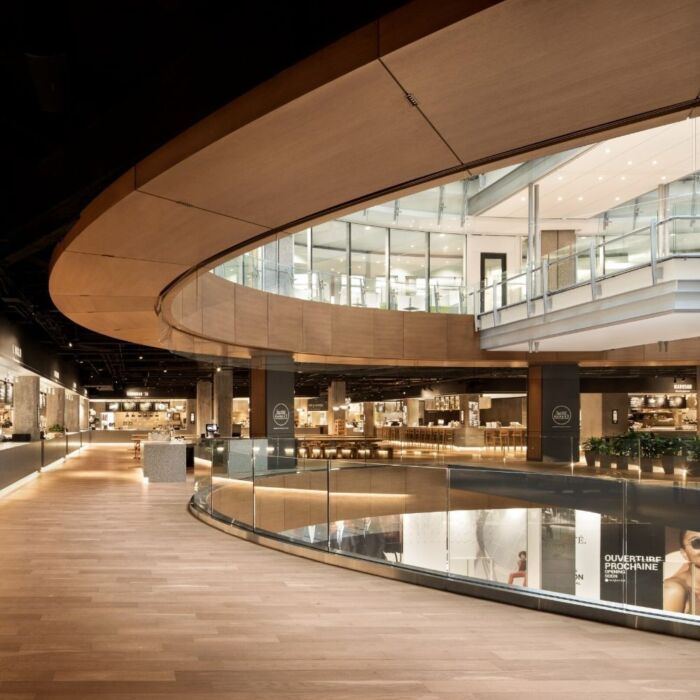 Taking place in the contemporary part of the building, the project has been designed as a large open area around which restaurants, bars, shop, cooking school and cultural space are articulated; all this in a cosy and friendly atmosphere. A curved bridge of notable structural complexity crosses the oculus to encourage cross traffic and connections towards the Eaton Centre, as well as to create a visual opening towards Robert-Bourassa Avenue. Around the atrium, two horizontal wooden rings are inserted, like a stratum, in a vertical context bathed in natural light, acting as a façade to the Time Out Market.
This project tends to reinvent the typical food fair by presenting an interior design concept with warm finishes and a subdued atmosphere. It creates a total contrast to the whiteness and purity of the adjacent commercial spaces and marks a pause in the commercial activity. Colour tones and lighting enhance both the raw state of the site and the warm atmosphere of the spaces. The finesse of the details, the use of concrete, metal, white oak and terrazzo, add to the sobriety of the place while accentuating its convivial character. The primary function of the food fair is here diverted and pushed to promote a reinvented and extraordinary gourmet experience, reinforced by the skillful architecture and interior design concept for the venue.
In collaboration with GH+A / Interior Design

Photos Credits: Adrien Williams