Simons - Graphic Design
Various Locations
Graphic design of Simons Londonderry Mall
Inspired by the Simons logo, LemayMichaud has entirely developed a playful and dynamic pattern, completely integrated into the Simons Londonderry's architecture.
Depending on its position on the building, the pattern varies in color and size. The building's gray base is at the pedestrian scale. At the top, on a green background, the pattern, at a larger scale, has been adapted to be seen from afar, fron the parking lot for example.
Installed on the front of the patterned wall, perforated panels modify the motif's perception. The size of the perforations in these panels varies depending on where you stand from the entrance.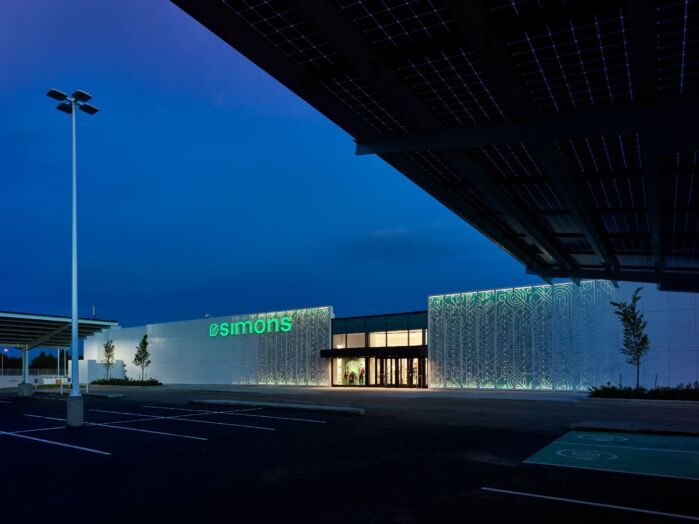 Signage
LemayMichaud developed the signage concept to be used in all Simons stores across Canada. The challenge was to design a simple system that would adapt to the numerous and varied configurations of Simons stores across the country (varying floor numbers, department sizes and types of services offered).Different types of signage were considered for both exterior signs and interior directional panels. A system of colors and pictograms helps customers find their way around the store.
AWARDS & SPECIAL MERITS
2018 – Grands Prix du Design – Lauréat – Prix Surface
Graphic design for a floral carpet
LemayMichaud developed in-house the design of a custom rug that combines the geometric shapes of the department's wall panels with floral and organic forms.
Both edgy and feminine, this customized rug creates an exclusive design element in the Contemporaine department at Simons Gatineau.
Custom DJAB wallpaper
Over 200 hand-drawn sketches were sketched and assembled into one unique wallpaper.
The result is a motley mix that exudes creativity, spontaneity and the urban edge that characterize the exclusive DJAB brand.